Whenever a long weekend is approaching, trippers in Ahmedabad begin to plan for a short day trip. However, given a limited choice of destinations, they either cancel their plans or visit the same old places. Thankfully, a new destination has surfaced on the map of Gujarat - The Statue of Unity, and backpackers have gone ga-ga over this tallest monument in the world. For a short trip with family and friends, the Statue of Unity is a perfect place for holidaymakers of Ahmedabad. Apart from its colossal height, the distance from Ahmedabad to the Statue of Unity (SOU) is a strong reason people like to visit this place. You can easily plan a one-day trip to SOU without having to worry about a day off at your office.
This new tourist spot has given Abu a good run for its money. SOU was inaugurated five years ago by the Hon'ble Prime Minister of India Shri Narendra Modi, and since then as many as 152.32 lakh tourists have visited the place.
Ahmedabad to Statue of Unity: Distance is Key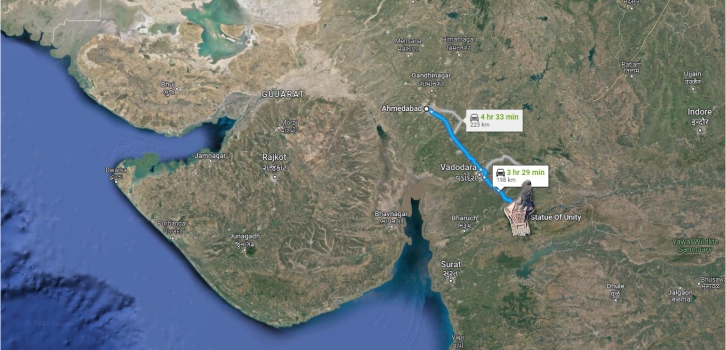 A short distance from Ahmedabad to the Statue of Unity allows visitors to plan a trip during weekends; it takes approximately three and a half hours (197 km) from Ahmedabad to reach the destination. Trippers can plan this excursion on short notice as it doesn't require conference calls with friends, Internet surfing, or managing finances. Pack your bags, take some snacks, fuel up and you are ready to go. A trip of 200 km is a sheer delight, and the roads are refreshingly dotted with some pit stops to grab quick bites. I bet if you plan this trip, you will get rah-rah support from your family.
Ahmedabad to Statue of Unity: Cover This Distance by Road
Although many travellers dislike the idea of self-driving to avoid travel fatigue, a road trip from Ahmedabad to the Statue of Unity by car gives extreme pleasure. As mentioned, the distance between Ahmedabad and the Statue can be covered in less than four hours. This allows you to spend quality time with your loved ones. Another reason to prefer a car over the train is the uncomfortable schedule of the latter. If you travel by car, it gives you greater comfort and preference for departure and arrival from and to Ahmedabad.
Ahmedabad to Statue of Unity: Catch a Train to Ekta Nagar (Kevadia)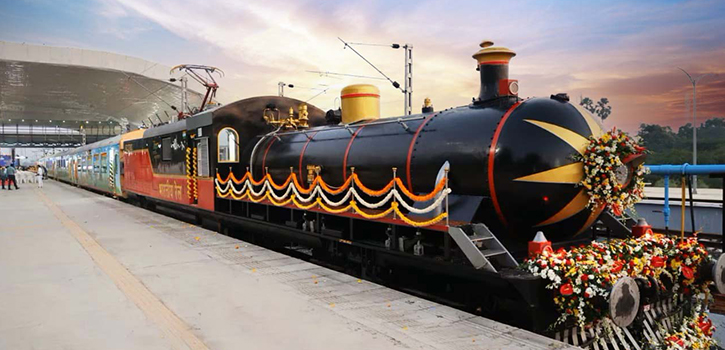 Jan Shatabdi Express departs every day from Ahmedabad Junction to Ekta Nagar; the departure time is 07:55 a.m. and the arrival at Ekta Nagar is 10:40 a.m. You can comfortably reach your destination in less than three hours. However, the flip side of this transport is there are limited options from Indian Railways to travel to Ekta Nagar. Moreover, returning to Ahmedabad can be a daunting experience for you as the train departs from Ekta Nagar at 09:00 p.m. and arrives in Ahmedabad at 11:50 p.m. This odd schedule may leave you in the soup sometimes.
In a recent development, Narendra Modi, Hon'ble Prime Minister of India, flagged off Gujarat's first heritage train from Ahmedabad to Kevadia, on October 31, 2023. The train will depart Ahmedabad at 6:10 a.m. and reach Ekta Nagar railway station at 9:50 a.m. The same train will depart from Ekta Nagar at 8:23 p.m. and reach Ahmedabad at 12:05 a.m.
Local Attractions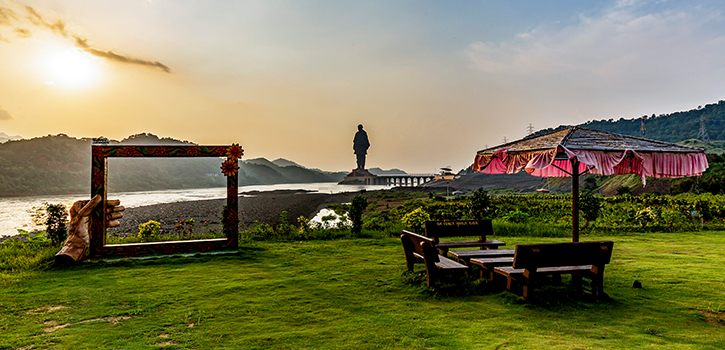 The monument is not the only attraction at Ekta Nagar; the entire location is developed as a tourist spot by the Government of Gujarat. Apart from 182 metres (597 feet) of a gigantic figure of a towering personality, Ekta Nagar is brimming with visual feasts for tourists. The destination boasts theme-based gardens, Narmada ghats, Infotainment, Ecotourism, adventure sports, night tourism, shopping and eating points.
Food and Stay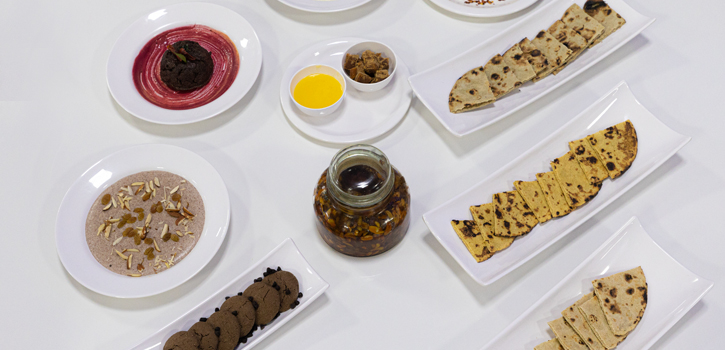 Despite having a few good options for accommodation at Kevadia, Tent City Narmada - a nature resort, has been a preferred choice for people who visit the Statue of Unity. The scenic beauty of this resort invites thousands of visitors in all seasons. Additionally, nature showers her choicest blessings with luxuriant greenery and dense forest. Amidst the forest, the resort is an ideal place to be one with nature. A soothing breeze ruffles your hair, the honey-dwed chirping of birds is your wake-up alarm, and the coolness of dew drops gives you a palliative pedicure. For nature lovers, the resort and its nearby area provide an opportunity to live the romance of their life in the most peaceful milieu.
After a day-long wandering, you would like to gorge on mouth-watering cuisines at the dining hall. The chef and a team of experts prepare global cuisines to fill your starving stomach. The lavish spread of delicacies also includes Jain food for the guests, who abstain from onions, garlic, and other roots.
The resort offers Premium, Deluxe or Darbari tents, welcoming you with every possible luxury. Patio recliner chairs, a rajwadi sofa set, and a study table with a lamp (to write down your experiences) are some facilities to de-stress your body and mind.
For more information, you may call +91-7240404040 or send an email at booking@tentcitynarmada.com.