October 31, 2023, is the birth anniversary of the Iron Man of India - Sardar Vallabhbhai Patel. Touted as a strong political lieutenant of Mahatma Gandhi, Sardar had passed rigorous tests to prove his mettle. Before getting his name slotted in the good books of Gandhi, Sardar had successfully led movements in Kheda, Borsad, and Bardoli, where he mobilized peasants against British rule to register non-violent protests of civil disobedience. The success of Bardoli Satyagrah grabbed the attention of all Indians, and Sardar became a hero in the hearts of Gujarati.
This article lists five important places connected with Sardar Patel. You may like to visit the places to pay your respects and celebrate his birth anniversary.
Statue of Unity: A Tourist Attraction of International Repute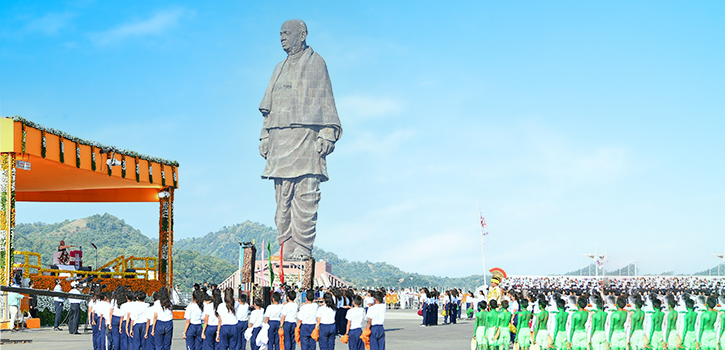 The Statue of Unity (SOU) is a tribute paid by the Government of India to Sardar Patel on behalf of millions of Indians. The tallest monument in the world is not only a tourist place for global travellers but it also symbolizes victory of unity and democracy over imperial powers. The campus of SOU covers an extensive scenic location facing the Sardar Sarovar Dam. This statue stands on the isle of Sadhu-Bet in River Narmada, at Ekta Nagar, District Narmada in the Indian State of Gujarat, with the majestic Vindhyachal and Satpuda Mountain Ranges in the backdrop.
As a leading tourist destination, visitors can explore the nearby attractions like the Cactus Garden, Butterfly Garden, Sardar Sarovar Dam, Jungle Safari, Narmada Maha Aarti, Khalvani & Zarvani eco-tourism, river rafting, boat riding and more.
Stay/Accommodation: Tent City Narmada
Bardoli: Farmers' Agitation Against British Government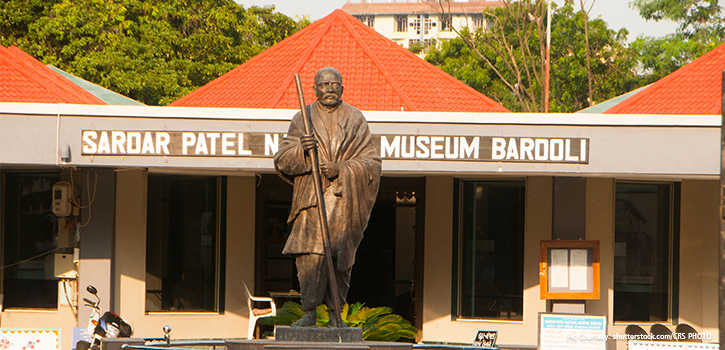 Bardoli is a town and a municipality in the Surat Metropolitan Region; the town is approximately 35 km east of Surat. Bardoli is known for its Bardoli Satyagrah, a farmers' agitation led by Sardar Patel against the steep tax hike imposed by the then-British government.
Bardoli is a historical town, which came to the limelight in 1899 when the British government began to set up railway tracks from Surat to Bhusawal as a relief project during the great Indian famine. The town is associated with an ancient city named Kedareshwar; Mindhola River was once known as Mandakini during ancient times. The city was destroyed by a flood in the Mandakini River. Following this flood, villagers were forced to relocate to a hilly region near Baladevi temple. Legend has it that Baladevi became Bardoli with the passage of time.
Surat is the nearest destination for tourists, who can explore historical monuments at Heritage Square; there are seven significant attractions of Heritage Square: Surat Castle, Andrews Library, J. J. Training College, Old Museum Building, Anglican Church, Kasturba Garden, and Victoria Garden.
Nadiad: Birthplace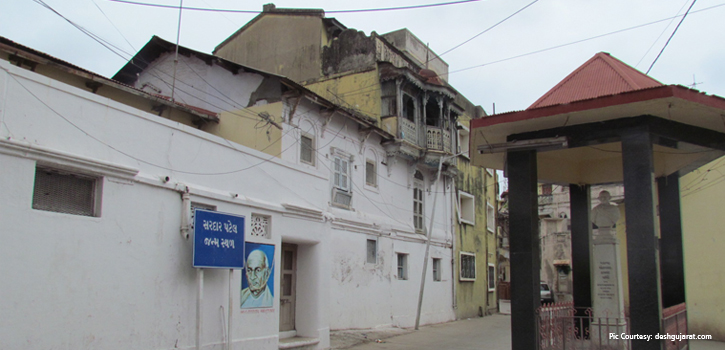 Apart from being the birthplace of Sardar Patel, Nadiad is a land of scholars who enriched Gujarati literature with their brilliant literary creations. The city was the cultural and literary capital of Gujarat during the 19th century as scholars were actively involved in gaining knowledge and understanding of Indian and British culture.
Santram Mandir is located in the centre of the town; the temple is known for its charity work. This old temple is visited by people on the day of a full moon. Marida Darwaja and Amdavadi Darwaja are also nearby.
Karamsad: Family Home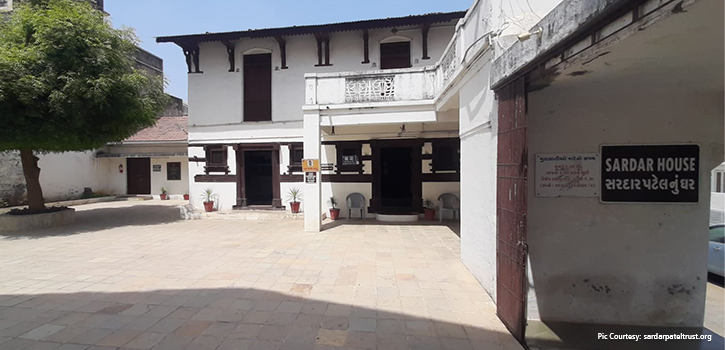 Karamsad is known as the city where Vallabhbhai Patel, along with his elder brother Vithalbhai Patel, spent his childhood and formative years of his life. For a century, Karamsad has been a bastion of the Patidar community. One of the major economic activities in this region is tobacco cultivation. This cash crop has enriched and empowered the Patidar community.
There is little historical evidence about the origin of Karamsad. However, it is assumed that the town was mostly dominated by the Koli community during the era of King Kumarpal (1155 AD).
In the modern history of Gujarat, Karamsad came to the fore as Sardar Patel received his early education in the town. The town has paid a fitting tribute to our Iron Man by building the Sardar Patel Memorial. Today, Karamsad is the hometown of a large & growing number of Non-Resident Indians (NRIs), who generously contribute to the development of the Charotar region, and are also instrumental in creating & financing a lot of institutes.
Travelling in the bylanes, visitors are constantly reminded of the peculiar tobacco smell that pervades, almost like that of empty cigarette packs.
Sardar Vallabhbhai Patel National Memorial: Shahibaug Ahmedabad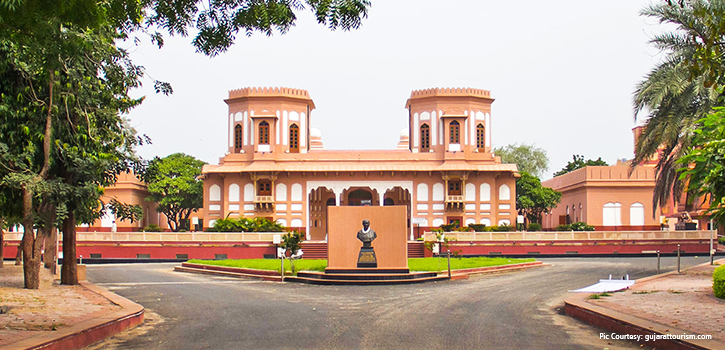 Sardar Vallabhbhai Patel National Memorial was established in 1980 in Ahmedabad. The urban authorities converted Moti Shahi Mahal, built by Mughal emperor Shahejahan between 1618 and 1622, into a museum and exhibition centre dedicated to Sardar Patel.
The central hall of this memorial boasts portraits of Sardar Patel, his family, friends and colleagues in the Indian freedom movement. Apart from photographs, there are relics of Patel's life, personal possessions, accounts and political cartoons from newspapers of the time.
Though the memorial is named after Sardar Patel, the edifice dedicates enough space to Mahatma Gandhi and Rabindranath Tagore - two architects of modern India. Gandhi's life and work are on display in the room connected through the Sardar Sarovar hall. This room is filled with portraits, pictures, quotes, busts, statues and books of Gandhiji.
Rabindranath Tagore had once enjoyed the hospitality of this palace in 1878; Tagore had written his only ghost story 'The Hungry Stones' and his first song in this palace.