Come summer and everyone is finding some cool ways to beat the heat. For travellers, it is arguably one of the best seasons to explore new destinations. Sea beaches can be a perfect location for summer-stricken souls; however, there are quite a few who are allergic to sea wind and salt waters. For the same reason, many avoid visits to water parks as hundreds of people are bathing in a giant, chlorinated pool. Although holiday revellers are left with limited choices, a river-side resort near the ancient river Narmada gives you some relief from scorching heat.
Some destinations lure people with their natural setting. Tent City Narmada boasts this edge as it is neighboured with the spectacular and beautiful Sardar Sarovar dam built on Narmada, near the town of Ekta Nagar of Narmada district. The scenic beauty invites thousands of visitors in summer and monsoon. Add to this, nature showers her choicest blessings with luxuriant greenery and dense forest. Amidst the dense forest, the resort is an ideal place to be one with nature. Soothing breeze ruffles your hair, honey-dwed chirping of birds is your wake-up alarm, and the coolness of dew drops gives you palliative pedicure. For nature lovers, the resort and its nearby area provide an opportunity to live the romance of their life in the most peaceful milieu.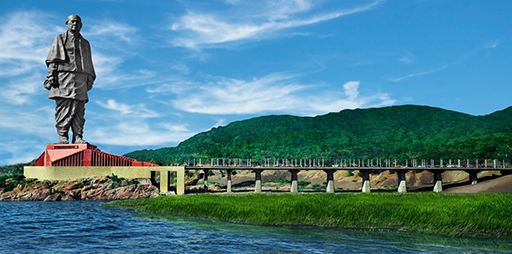 Although nature always delights us with her inexhaustible supplies of awe-inspiring treasures, Narmada district can also surprise you with one of the engineering marvels (in case you need some respite from the green gold of forests). Yes, your guess is right. It's the Statue of Unity, the tallest statue in the world that puts you in awe for its majestic structure and amazing craftsmanship. This monument has garnered attention of tourists across the globe. Following this, the entire campus of Statue of Unity is now reverberating with countless activities to entertain tourists.
There are a few gardens viz. Arogya Van, Butterfly Garden, Cactus Garden, Ekta Nursery, Vishwa Van, Valley of Flowers, and Unity Glow Garden. For kids' infotainment, there is a nutrition park, jungle safari, dino trail and Ekta cruise. Adventure lovers can feel the adrenaline rush by engaging in Kesuda tour, river rafting, Sardar Sarovar boat ride, and cycling tours at Zarvani and Khalwani. Night tourism, shopping at Ekta Mall and SOU souvenir shop, eating points like Ekta Food Court, SOU Food Court, and Amul Foodland are other attractions of this campus.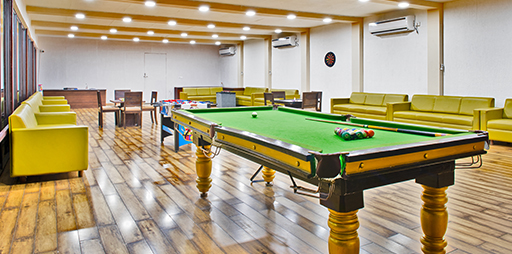 Kids normally are averse to the idea of a long walk in the forest or surrounding areas. For them, the resort has a clubhouse and play area. Equipped with games like chess, carrom, snooker, foosball, and other board games, the clubhouse keeps your kids happily occupied for a few hours. A spacious hall gives them enough leg room to run around and spend time in the company of other kids. Apart from the clubhouse, kids would like to indulge in some outdoor activities like cycling and playing at a dedicated play zone. For adults, who don't want to miss their fitness regime, a treadmill helps them burn a few calories even while they are on a pleasure trip.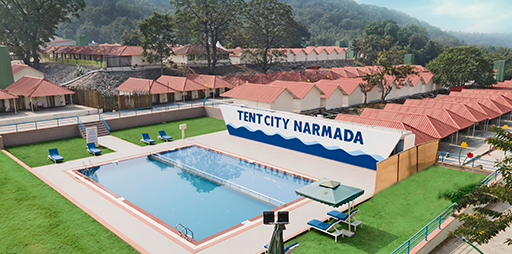 After a day-long trip in nature, a plunge in a swimming pool is all you need to pamper yourself. A one-hour swim will relax your stiff muscles and strained nerves, and also build your appetite. Next, just gorge on mouth-watering cuisines at the dining hall. The chef and a team of experts prepare global cuisines to fill your starving stomach. The lavish spread of delicacies also includes Jain food for guests, who abstain from onions, garlic, and other roots.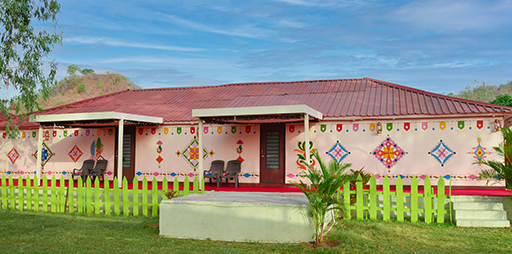 When stars begin to sparkle, it's time to retire into Premium, Deluxe or Darbari tents, welcoming you with every possible luxury. Patio recliner chairs, rajwadi sofa set, study table with lamp (to write down your experiences) are some of the facilities to de-stress your body and mind. Nocturnal creatures can take a ride in a golf cart, enjoy cultural programs or just hang out under the starry night sky. If you are young and romantic at heart, have some sweet nothings with your love interest in the rich lawn with a gazebo.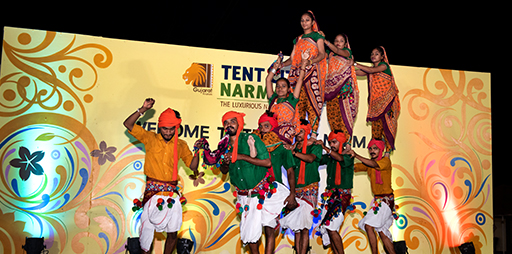 Tribals from the neighbouring district of Chhota Udaipur give cultural performances at the resort. Rathwa is a popular tribe in Gujarat; men and women of this tribe deliver acrobatic dance performances. Using their traditional props, robust tribals demonstrate their amazing dancing skills in front of the guests.
Summing up, Tent City Narmada is an ideal venue for you and your family to spend summer holidays. Book your tent, pack bags, and have fun!