A nature resort close to the Narmada River is an ideal place to make life more meaningful in every manner. However, it is our professional goals that prevent us from doing so. But oftentimes our calendar gives us a few opportunities in a year to visit such beautiful places and spend our time there - either with our family or business partners. Tent City Narmada, built near the river Narmada, is a perfect location for business owners, event planners and pleasure seekers to live their life to the fullest, of course for a couple of days. This luxuriously made nature resort is strategically located in the heart of a vibrant state, and therefore, people of Gujarat and other parts of the country, frequently visit the resort and stay there for business events, social functions and pleasure.
Proximity to Vadodara and Ahmedabad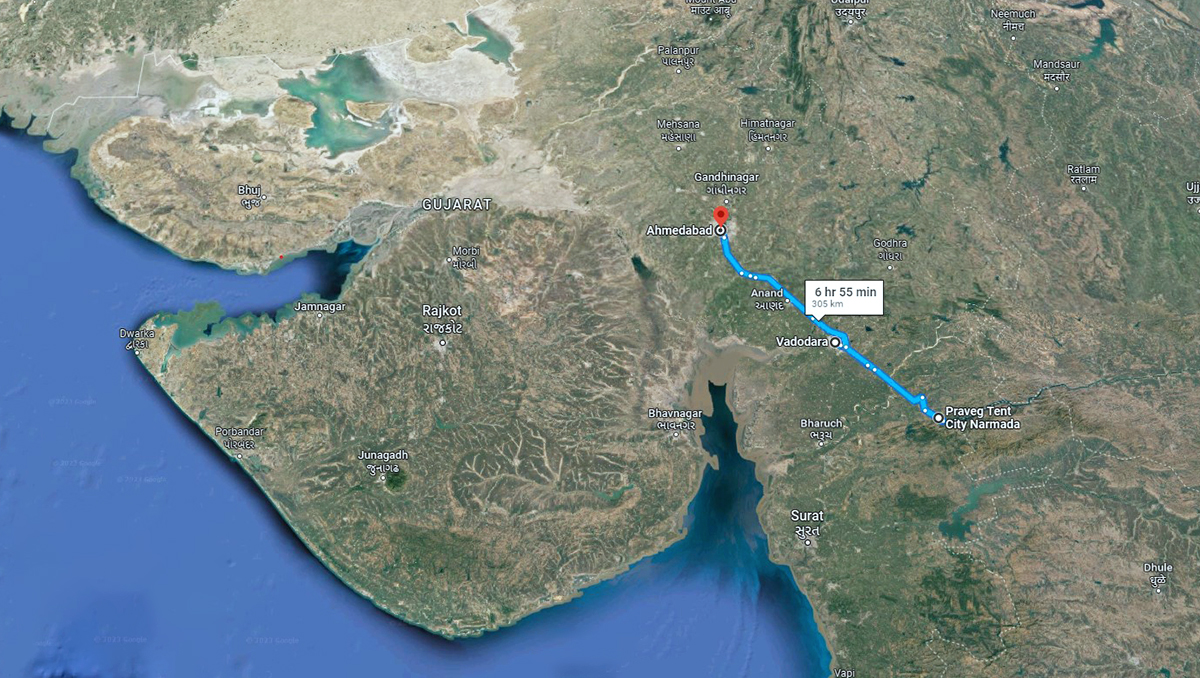 Ahmedabad is the financial capital of Gujarat. In the last three decades, the city has witnessed exponential growth in terms of industrial development and employment opportunities. A luxurious resort with its beautiful location and proximity to the major centres of business - Ahmedabad and Vadodara - has become the best choice for business owners, who wish to conduct seminars, workshops, and conferences. Tent City Narmada, built under the shadow of a visionary freedom fighter and political leader Shri Sardar Vallabhbhai Patel, is the most preferred destination. The resort is just 3.5 hours away from Ahmedabad and 2 hours from Vadodara. This nearness provides corporations to organize their business meetings, events, exhibitions etc. in the vicinity of river Narmada. The venue offers peace of mind, solitude and luxury; and the combined effect of this ensures a boost in business.
Business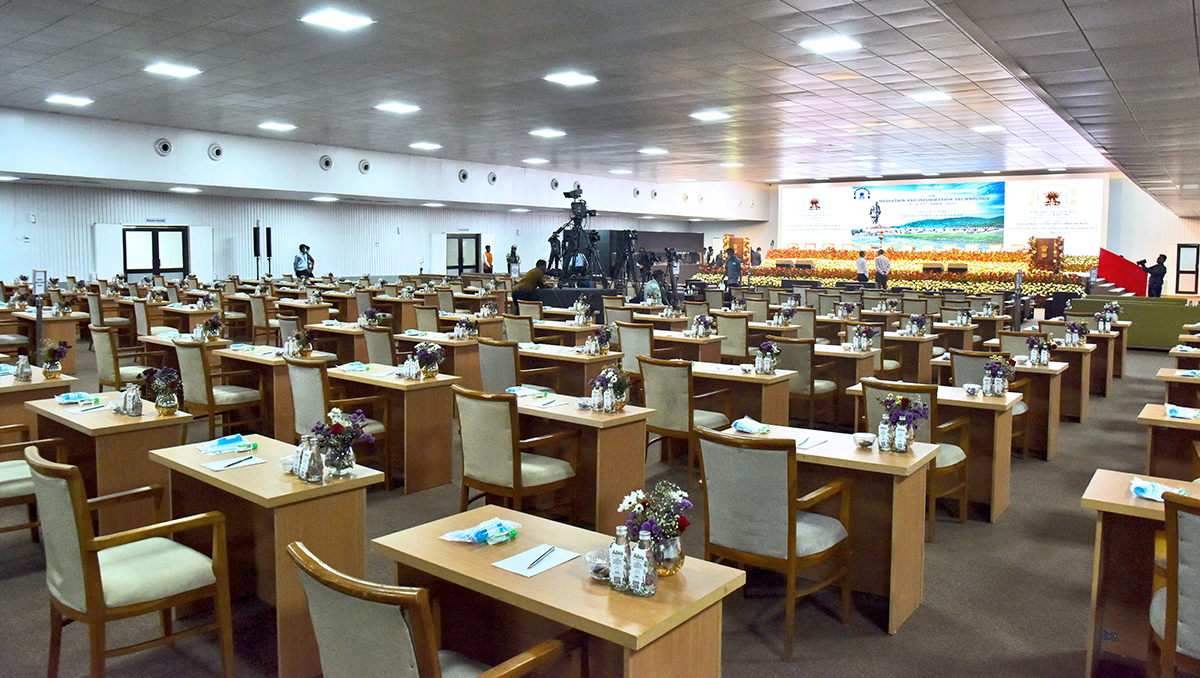 Once you choose Tent City Narmada for your business needs, the resort and its highly skilled human resource will take enough care of your preferences, likes and dislikes. Three conference halls can become three brilliant chapters in your growth story. With a combined area of 2000 square meters and a seating capacity of 1500 delegates, the halls fulfil your requirements for small to large gatherings. A spacious dining hall accommodates 400 guests and a VIP lounge offers sufficient space with 200 square meters of area. The sweeping area of the conference hall (capacity: 1000) is ideal for organising corporate events, including conferences, meetings, get-togethers, training workshops, incentive-based employee vacations, and more. You can utilise this space with practical seating arrangements: C-Type Board Meetings, Round Table Meetings, Theatre Type Seating, and U Shape Seating.
Weddings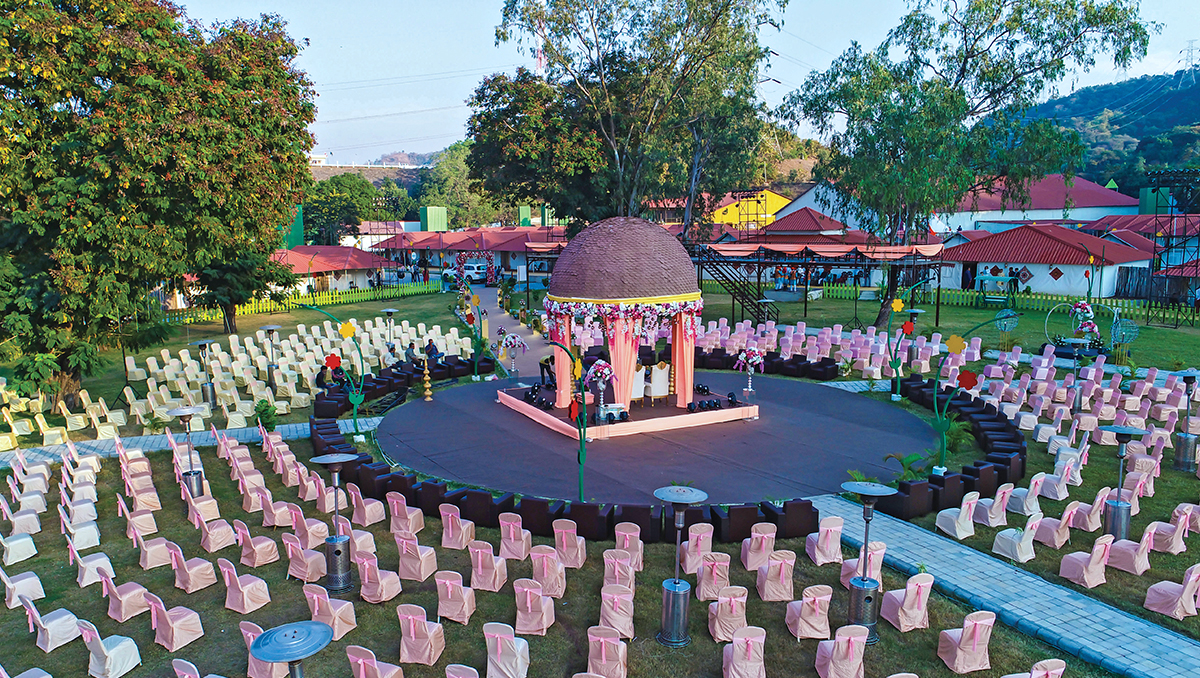 Apart from being a popular tourist location, The Statue of Unity has also emerged as the best wedding destination in Gujarat. If you are planning a destination wedding, you can choose Tent City Narmada as your wedding venue. With the backdrop of nature and her most exciting elements like dense forest and a large river, exchanging wedding vows at the resort adds a wow factor to your big day. The best location, the best facilities and the best services - what else do you need to plan a once-in-a-life occasion?
Tent City Narmada, in addition to three banquet halls, offers more than enough space to carry out wedding ceremonies. You can make your special day an unforgettable memory by making the most of a rich, green lawn (for outdoor celebrations), regional, Indian and global cuisines, 200 well-appointed tents, and the highest standards in safety, hygiene, and hospitality.
Pleasure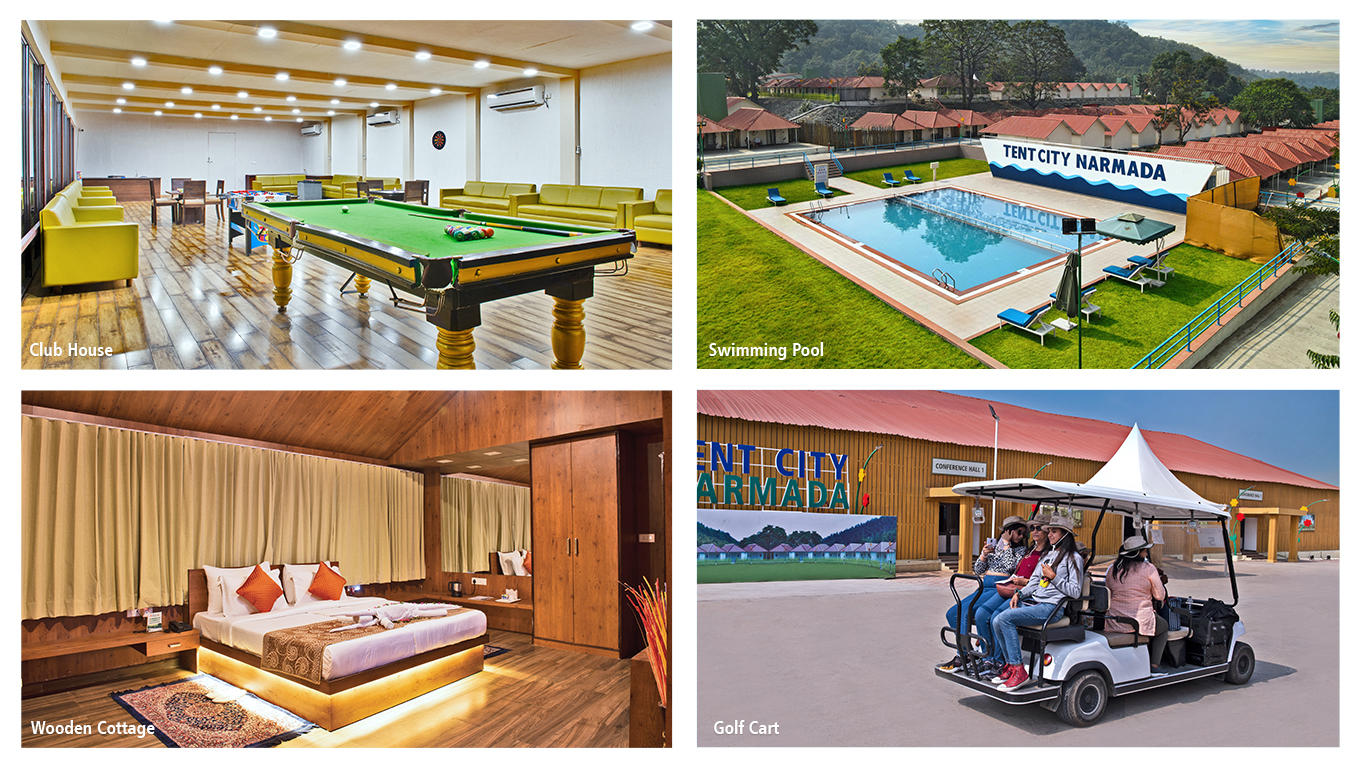 With the unveiling of a monumental statue of Shri Sardar Patel, the entire region, christened Ekta Nagar, stole the limelight of the world. And then there was an onslaught of tourists from India and abroad. The place has become a favourite destination for globetrotters; Tent City Narmada has now become a trusted partner for tourists, who wish to explore the Statue of Unity and its surrounding attractions.
The resort has everything a global traveller is looking for; luxurious accommodations, clubhouse, swimming pool, conference halls, global cuisine, entertainment and more. Deluxe, premium, and Darbari tents provide a comfortable stay; while amenities like a golf cart, rich lawn with gazebo, tree house, cycling, dining hall with live music, and kids' play area keep you happily occupied all day.
Once you are at Tent City Narmada, the nearby area embraces you with its plethora of options to explore. Ekta Nagar boasts theme-based gardens, Narmada ghat, Infotainment, eco-tourism, adventure sports, night tourism, shopping, and eating points. You can plan a long holiday with your family and take pleasure in the finest hospitality services.
With this state-of-the-art tented resort, Praveg Limited forayed into the hospitality sector in India. Following this, the brand has continued this practice of creating trademark hospitality infrastructure at other locations like Varanasi, White Rann of Kutch, Diu, and Daman.
Stay tuned to this space to know more about Praveg and its beach resorts, tented resorts, and safari parks.
For more information, you may call +91-7240404040 or send an email at booking@tentcitynarmada.com.